Recipes
The possibilities are endless when it comes to making delicious organic meals for yourself and your family, but we all need some inspiration occasionally.  So, here is a selection of recipes that might help you get creative using organic produce.
We try to focus on some of the less common items we bring (what DO you do with artichokes?!), but a classic gem like grilled corn with herb butter? why not!
You're welcome to check back here regularly to find more recipes that incorporate the organic fruit and vegetables we deliver weekly to your door. You may see some old favourites here and we will be adding more soon!
We love the community in this as well – you have no idea how many times we deliver to neighbours who don't know they are enjoying the same food that week!
So please share your favourite recipes with us so we can share them with your fellow organic-box-people 🙂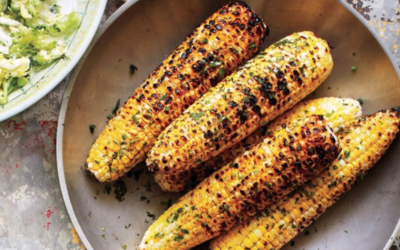 1/2 cup unsalted butter, room temperature 2 tablespoons finely chopped fresh herbs (such as coriander, chives, and/or flat-leaf parsley) 1 1/2 teaspoon kosher salt 1/2 teaspoon freshly ground black pepper Cayenne pepper Corn, shucked 1 tablespoon olive oil Prepare...